Modular Flexi-learning Programme
Clinical Research at Fast Track - CR@FT

CR@FT not only makes the students industry-ready but also helps them upgrade their qualifications and skills while working.
5-Prolonged Advantages
CRAFT at Anovus has five distinct advantages for the students pursuing clinical research.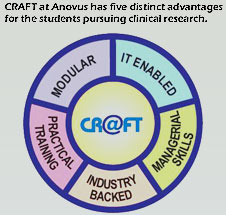 IT Enabled
Anovus provides training on one of world's best Clinical Research softwares, SAS. The students learn the use of powerful and sophisticated statistical tool techniques for planning and analysis of clinical research experiments and investigations as an essential component of the curriculum. The students can also acquire the much-in-demand International SAS Certification.
Managerial Skills
Anovus lays great emphasis on the overall development of the student. Therefore, a module on management skills is imparted which includes interactive seminars on language and communication skills, personality enhancement, interpersonal skills, etc.
Industry-backed University Recognized Programs
The course curriculum at Anovus has been formed with elaborate combined efforts of the academia and the industry. Specific inputs have been incorporated from various organizations including pharmaceutical, manufacturing, research, contract research, IT, healthcare and regulatory affairs.
Practical Training
Students are exposed to centres where clinical trials are performed/professionals involved in clinical trials. Also, to give them first-hand understanding of the trial process, practical training is imparted through simulated clinical trials.
Anovus Modular Programme and Career Growth Opportunities
The students can opt for direct admission to any of the programmes or follow the modular method and continue to upgrade his/her qualification and achieve certification. The student can later join the next level, with or without a break, by paying the applicable fee (depending on the availability of seats).