Clinical Research Industry
What is Clinical Research?
Clinical Research is a systematic study of new and existing drugs in human subjects to generate data for discovering or verifying the Clinical, Pharmacological (including pharmacodynamic and pharmacokinetic) or adverse effects with the objective of determining safety and efficacy of the new drug.
Phase I Trials
This is the first time the new drug is administered to a small number, around 20-80 healthy, informed volunteers under the close supervision of a doctor. The purpose is to determine whether the new compound is tolerated by the patient's body and behaves in the predicted way.
Phase II Trials
In this phase, the medicine is administered to a group of approximately 100-300 informed patients to determine its effect and also to check for any unacceptable side effects.
Phase III Trials
In this phase, the group is between 1000 and 5000, for the company to use statistics to analyze the results. If the results are favorable, the data is presented to the licensing authorities for a commercial license.
Phase IV Trials
This is a surveillance operation phase after the medicine is made available to doctors, who start prescribing it. The effects are monitored on thousands of patients to help identify any unforeseen side effects.
A Global Perspective
Clinical Research Industry has grown around the world at an unparalleled rate in the past few years. It has opened up new opportunities of employment for a large number of people. The Clinical Trials market worldwide is worth over US$ 45 billion and the industry has employed an estimated 2,10,000 people in the US and over 70,000 people in the UK forming one third of the total Research & Development staff. The clinical trials industry has clear potential for strong growth in the future, driven by technological and scientific advances.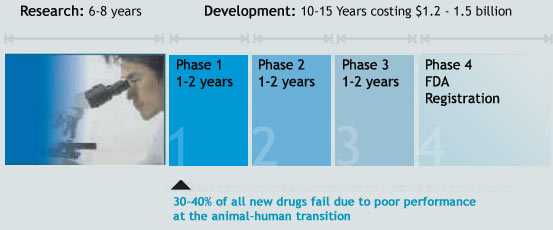 An Indian Perspective
India is increasingly becoming the hub of clinical trials for all major pharma companies across the world due to its advantages of treatment naïve patient population, state of the art and yet cost effective trial sites, high percentage of English speaking medical professionals and timely completion of the projects.

North India has a clear advantage for clinical research because of the availability of many world-class super specialty hospitals and research institutes including PGIMER, National Institute of Pharmaceutical Education and Research(NIPER), Institute of Microbial Technology (IMTECH), Fortis Hospital,

Apollo Hospital, CMC, DMC, PGIMER

Srinagar etc.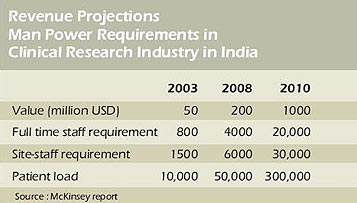 Business growth has been 4 times in 5 years and is expected to be 5 times in next 2 years.
Total staff requirement by 2010 is expected to be 50,000.